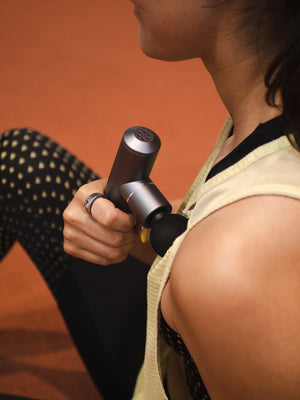 The most wanted in the World
Hello!
I am Nooralotta Neziri, a professional athlete. It's especially important to me that I recover quickly and that my muscles don't get stuck. That's why I always carry this muscle hammer with me at competitions and also at training camps. This device is very small and easy to take on a trip - yet the power and durability are stunning. I warmly recommend Power Recover to all athletes, active people and also to everyday fitness to maintain muscle well-being.

- Nooralotta Neziri, Olympian hurdler, goal 2024 Paris Olympics
The Finnish Power Recover has succeeded in developing the metallic massage hammer that is widely recommended and used by top athletes as well. Take advantage of the best equipment and methods in your exercise and body care and you will recover even better every day.
Power Recover
Tiny Lux is the most stylish in the World
Users say Power Recover Tiny Lux is World's most stylish and superior compact massage hammer for professionals and those who take care of their own well-being.

The Power Recover Tiny Lux is a super-durable massage hammer with a great design, long battery life, a 2-year warranty and amazing user feedback around the World.
Power recover finland
The Brand
Our slogan: Positive body. Positive mind.
When your body feels well your life shines joy and good results.

Our vision for your life: Extend your limits!
Choose your goal, remember your values and we help you to be even better every day.

We want to be also the most ecological and positive recovery brand in the World with YOU.
Read some reviews from our customers
"Hi I'm Tomi, Crossfit Athlete. This mini muscle gun is a quality product! You can feel it in your hand as it pounds your body. I like its size so I can easily access difficult areas like shoulders and back by yourself. and the small carrying case is great, convenient for me who travel a lot. Highly recommended! "




Tomi
"Surprisingly powerfull for such a small size, yet quiet. Nice range of speeds. Easy to take with you and convienient to charge.Have used a bigger sized hammer before, so compared to this, I'd say this is easier to use since it's not that heavy but you also loose some of the assisted pressure of the heavier one.One star is missing due to the small heads, especially the flat and spinal ones would prefer to be bigger for usability."

Miina
"The best pocket massage gun, which travels with me wherever I go. I love the premium feel it has and the range of different accessories available for the multipurpose. The variety of options and speeds also allows for a wide spectrum of treatments. A powerful one. recovery tool that I hope will last indefinitely! "



Tiina